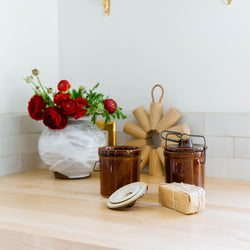 Humble & Grand
Vintage Ceramic Storage Canister
These vintage canisters are perfect for storing a variety of things.  We use them as cheese crocks or for storing leftovers.
small measures 3.5" R x 4.5" H
Medium measures 4.5" R x 4.5" H
Large 5.25" Diameter x 5" H 
As part of our found collection, each piece has been gently used. 
This item is non-refundable.
Listing is for one canister.